The investment scenario is changing with the change of technology, especially in the area of virtual currency. These days cryptocurrencies are much in demand and those who take it as a safe option for investment love to go for it. One such more incident has come in the limelight where more investors are keen to invest in this currency.
Peter Schiff, who has been a Bitcoin critic for a long time now was in for a surprise from Twitter users who favored his son Spencer Schiff's investment advice against his traditional investments in Gold. He is a traditional investor who loves to go for the routine investment options while his son has suggested investment in cryptocurrency. He has posted it on a social media platform where the majority of the voters have voted in favor of his son.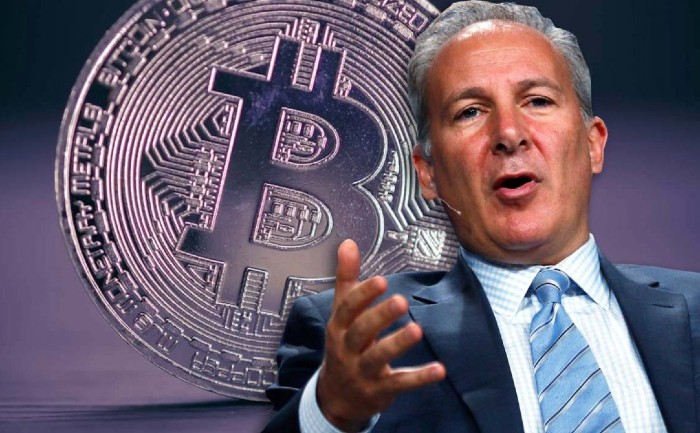 Peter Schiff posted on twitter as to whose advice people want to follow as Spencer Schiff had bought more Bitcoins against his advice. He asked users whether they want to follow a 57-year-old investor and business owner who has 30 years of investment experience or an 18-year-old college freshman who has never even had a job. To his surprise, more than 80% of the users voted in favor of his son's advice.
Reacting to the survey on twitter, Spencer Schiff said that Crypto Twitter might be backing him in this case. Not only that, but many users on social media also expressed their support for Spencer. Usman Majeed, CEO of Quantum Labs commented that Peter Schiff's son would be a multi-millionaire at least by the time he turns 57 if he keeps buying Bitcoin.
However, many people also thought that it was an investment strategy of Peter Schiff to have his son diversify his investments. Morgan Creek Digital co-founder Anthony Pompliano said that it was a great idea to use his son to hedge the gold bets. He added that Peter would benefit if Gold goes up and son would benefit if Bitcoin goes up. He mentioned that it was a smart idea to go long on both assets without diluting gold investments.
Other social media users also had similar opinions and said that Peter was making a good move where he can have the best of both situations. If bitcoin failed, he can say to his son that he should have listened to his advice. On the other hand, if Bitcoin succeeds, he can say that his son is a smart guy.
Even though Spencer Schiff currently did not hold any Bitcoin in his wallet, transactions worth 0.11 BTC were made since the 27th of August.
Even though it was on a lighter note, this was not an isolated event, and it has become common for new investors to dive into cryptocurrencies even before they get to taste the traditional investments. Earlier, most investors first got into the stock markets and then slowly moved to commodities and currency markets. This was a standard way of progressing in the investment world. However, new-gen investors are not so keen on the traditional markets, and they are savvy enough to get into cryptocurrency trading directly.
Apart from that, the fact that old generation investors are risk-averse is also another point that needs to be considered in this situation. Most old-timers have seen lots of ups and downs in terms of the economic situation, and this has given them the wisdom to bet on safe assets in the long run. On the other hand, youngsters are not averse to taking risks as they have little to lose, and they are directly entering into the cryptocurrency markets.
The emergence of apps and other easy to access platforms to invest has also made a lot of difference, and it does not take much to start investing in today's world. There are no lengthy procedures, and you can start trading from your smartphone within a matter of a few hours after opening the account.
COVID 19 and the demand for cryptocurrencies
The recent pandemic has shaken the confidence of many investors in the financial markets. As world economies struggle to come out of this turmoil, they are offering more stimulus to manage the crisis. Even though this offers a temporary solution to ease liquidity concerns in the market, it can do a lot of damage to the value of the currency in the long run. Due to all these factors, most investors have lost trust in the regular currency as it is getting devalued due to such stimulus packages coming in large numbers from the government.
Apart from that, the lockdown was implemented in most parts of the world in the months of March and April, and this was a huge boost for online trading. Millions of new investors came to the market at this time, and this also prompted the boom for cryptocurrency trading. This trend is clearly evident in the charts of Bitcoin and various other cryptocurrencies in the market. The price of Bitcoin has soared since the beginning of April and even crossed the previous high.
In this situation, they are looking at DeFi that can offer stability in the long run for the economy. Already countries like China are making good progress in this regard, and we may get to see digital Yuan in the next few years. When the central banks can take such bold steps, it naturally boosts the confidence of young investors about blockchain technology and cryptocurrencies. In this regard, the biggest beneficiary will be undoubtedly Bitcoin as it is still the leader in terms of cryptocurrencies across the world. It has retained its position since many years and is becoming a household name across many countries.
Even mainstream businesses are now offering payment solutions in Bitcoins, and they are also accepting cryptocurrency payments for their businesses. This is done to attract the young generation towards such businesses in the future. Due to all these factors, youngsters are getting more enthusiastic about participating in Bitcoin trading all around the world.